Social media has really grown in popularity over the past 10 years. Typically, the formation of social networking sites with a huge influence around the world: facebook, instagram, pinterest … There are also many large and small social networks for each country. With a large number of users and a large amount of time, you will not be able to ignore the customer outreach and influence here. When you manage too many social media accounts, each type of account has high traffic times. So how can you schedule and post on all your social media accounts. Which social media management tools are the best and most awaited in 2021? The above article will list the most complete tools to help you do that. Each tool has its own strengths and weaknesses. But in general can solve the problem of scheduling and posting on social media sites. Other common features are for better management of your content and posting schedule. Hopefully, the above sharing experiences will help you choose the best social media management tools 2021 suitable for your business and needs.
There are several main reasons you should use social media management tools
You are managing a lot of social networking sites. Putting up content for all of your accounts at once is not easy
Each social network has different engagement times, you need to schedule regular posting at the times when your customers are most engaged.
Another important issue is that posting content on social media sites takes up a lot of your time.
With the following social networking management tools will help you run your own or small businesses most effectively.
1. SocialBee – best software for social media management
SocialBee is a platform built primarily with a focus on content and scheduling of posts on social media sites. Unlike other applications, it has many features to manage content as well as manage interactions on social networks. Test content A / B and export reports for you.
The special feature of SocialBee is its mobility. The platform is designed with its own mobile application so you can manage your content while you are on the go. Notification feature lets you know of major post issues or running out of scheduled posts.
SocialBee is also very network on Twitter to help you analyze and evaluate potential customers for you to reach quickly.
You can subscribe to SocialBee with a 14-day free plan without having to enter recurring billing. Usage packages also have a very suitable price
2. Sked Social – instagram auto post
Sked Social is a broad, interactive platform that helps you manage multiple things at once, and manage with associates and employees to ensure your content is marketed most quickly and accurately. Sked Social is mainly focused on instagram features, so when you are in need, find tools to automatically schedule and post on Instagram. This is the right marketing tool for you.
With Sked Social you can create descriptions starting with the hottest hashtags that quickly appear in the first comments of Instagram posts. Sked Social also helps you to plan a complete, clear and intuitive communication that helps you manage well and dominate your competitors.
Sked Social also helps you to manage good content and hashtags that save you a lot of time without having to enter these content.
Về giá cả, các mức giá đều rất tối cho các tổ chức và doanh nghiệp nhỏ. Bạn có thể dùng thử gõi miễn phí 7 ngày để trải nghiệm các sản phẩm của Sked Social
3. Social Post Center – The best social media management tools 2021
Social Post Center is a tool to manage the most social platforms, so it is very popular in many countries. With features applicable to 12 popular social networks including content creation, and post scheduling. Social Post Center conglomerate helps you to post videos and livestream on social media where video can be posted
Standout features for better management
RSS Feed Automation
Team Manager
Proxy Manager
Group Manager
Caption Manager
Watermark
File Manager
Social Post Center helps you manage more accounts with the prices that are not as good as from 7.99 USD for 12 accounts and 29.99 USD for 96 accounts. Very cheap compared to other tools, you have to pay hundreds of dollars to manage such accounts.
The Social Post Center also gives you some standard analytics and reports for you to easily keep track of your content.
Social Post Center also helps you create and schedule livestream on facebook, instagram or schedule to post directly to youtube
One advantage of Social Post Center is that you can schedule an unlimited number of posts and post time, too good.
This will be a very suitable tool for soloists who are starting to test and manage multiple social media accounts before entering professional management and using more premium services.
A limitation of the Social Post Center is the content storage capacity. But do not worry because Social Post Center supports you to directly link to your content archives: Dropbox, Onedrive
4. Planoly – best free social media management tools 2021
Planoly is also primarily focused on instagram social media. And recently more pinterest. Because of the simplicity of the number of integrated social networks, Planoly optimally focuses on focused solutions to save you more time.
The plus of Planoly is a powerful content creation and analysis tool for instagram. Some key features that you may find immediately useful: easy-to-operate on your computer and on mobile devices. The analytic grid helps you see which images are most engaged and during which times are most active.
There is also a useful feature that you can quickly interact with and comment on Planoly to help you centrally manage everything in one place.
You can completely use the free long term plan to verify the system. Or pay for more attractive features
5. Crowdfire – social media marketing and online reputation
Crowdfire is the first app that claims to offer automatic posting on tiktok. But currently on the application page has not seen offer this feature. Crowdfire currently offers automatic posting services on all major social networks. You can also share content from website RSS and video to youtube
Crowdfire is very powerful at creating and managing content, and thanks to the help of AI, selecting or excluding content will give you the best recommendations for you when creating the best content for your customers.
As with other tools, Crowdfire will also help you to visually manage your post schedule according to the time you want. You can follow up visually throughout the week.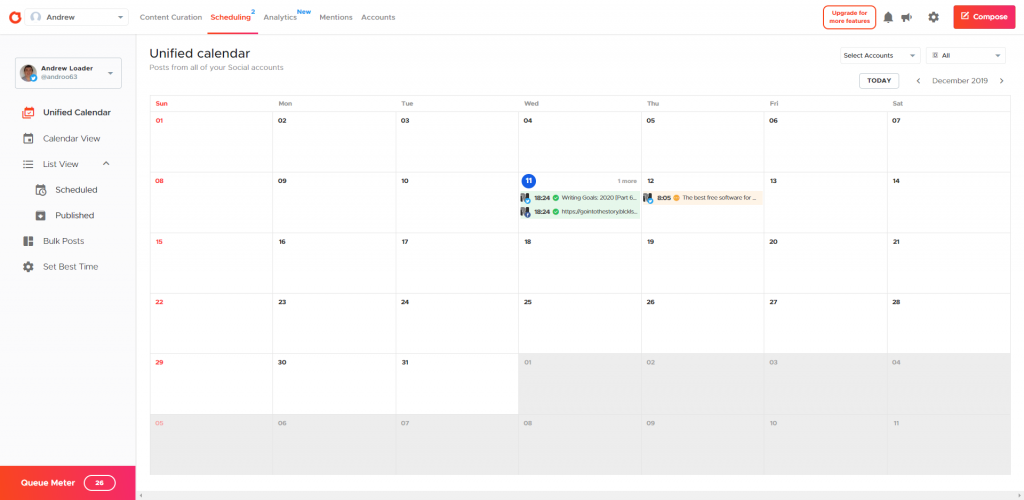 Crowdfire packages range from $ 9.99 to $ 99.9 depending on your needs.
If you love images and need a complete solution for visual communication, then Tailwind is the platform to help you best. It will help you gain the most advantage on Instagram and Pinterest
With the image creation features analyze and scramble them so your content isn't too boring for everyone to create a multitude of content.
The basic price you can refer to. For companies and businesses in need, Tailwind will directly consult and build galangal packages for that business.
MeetEdgar is a tool that allows you to create content and schedule it on multiple platforms: Twitter, Facebook, instagram, pinterest and Linkdin.
In terms of management and operations, MeetEdgar allows you to create various types of content categories, like blog posts, quotes, questions … After creating content and scheduling posts, MeetEdgar will help you out. Statistics which content is best and automatically re-share that content to help you reach more people and you do not have to take any action.
Price from 19 Usd – For freelancers, hustles and growing brands. And $ 49 For Entrepreneurs and Small Businesses
If you only need to manage 1 or more Twitter accounts, then TweetDeck is what you need. More than you would expect, TweetDeck gives you the best out of Twitter that no other tool can offer. It allows you to schedule tweets on multiple Twitter accounts and track all activity of all accounts in one place. Another great thing is that it's completely free.
With a rapidly growing number of potential users, direct competition with Twitter prompted Twitter to acquire TweetDeck in 2011.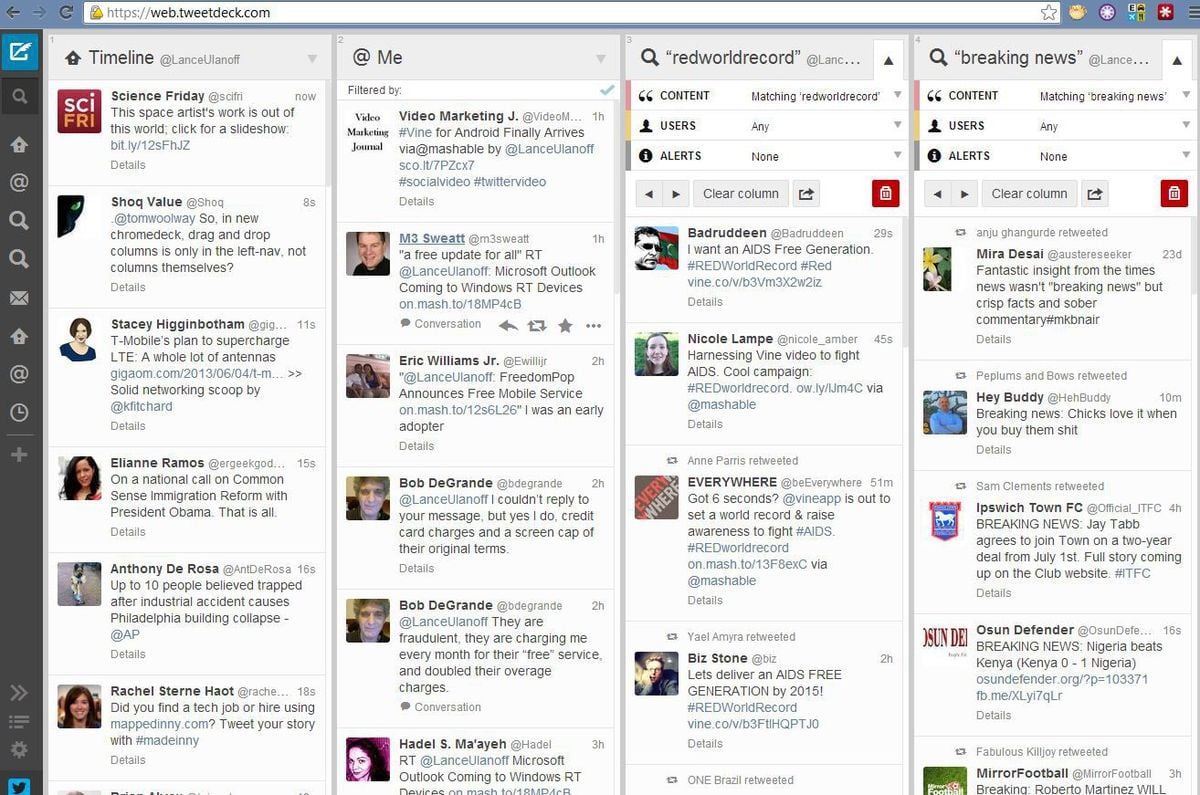 So what more can TweetDeck do? It is a dashboard that allows you to see all of your notifications, messages, activity and mentions on any Twitter account. You can customize the look by adding different display columns to make it easier to follow: Collections, likes, posts, followers, Create searches to track topics, events and hashtags. Refine the results with filters at the top of each timeline.
9. Hootsuite – The best social media management tools 2021
If you have multiple social media accounts, for interacting with your users or simply to maintain multiple accounts for business purposes, Hootsuite is the right choice for you. With support for most popular social networks, Hootsuite will help you keep track of your interactions and schedule your posts at the time you want in the future. Depending on your needs and purposes, Hootsuite offers packages with corresponding prices that help solve a lot of problems for you at once. You can completely sign up for the free trial plan with 10 social networks in 30 days, which is great, isn't it. You can fully experience the full range of features. With higher plans, there will be more features, more users and of course your better support.
Hootsuite, like other tools, gives you the main features:
Create a post
Schedule to publish posts for each account at different times
Analysis and detailed reporting
Direct interaction with customers at Hootsuite
It is the oldest platform, starting in 2008. Therefore, the best complete features for users as well as the most number of users today. Hootsuite remains in the top social media management tools 2021
Hootsuite is well supported on social networks
Facebook
Instagram
YouTube
LinkedIn
Twitter
Pinterest
The plans use from 19 USD to 599 USD / month for you to manage 10 to 35 social accounts
Promo Republic fully integrates features for the most popular social networks including: Facebook, Instagram, Twitter, LinkedIn, Pinterest and Google business.
In addition to offering scheduling and posting tools, Promo Republic also gives you access to a library of over 100,000 post ideas and a professional and fast graphic editing tool.
Promo Republic also provides analytics and reports. Make the best choices for you to choose the best content and timing to post.
With 2 popular packages to choose from for immediate use or Promo Republic builds its own more advanced packages depending on your business needs.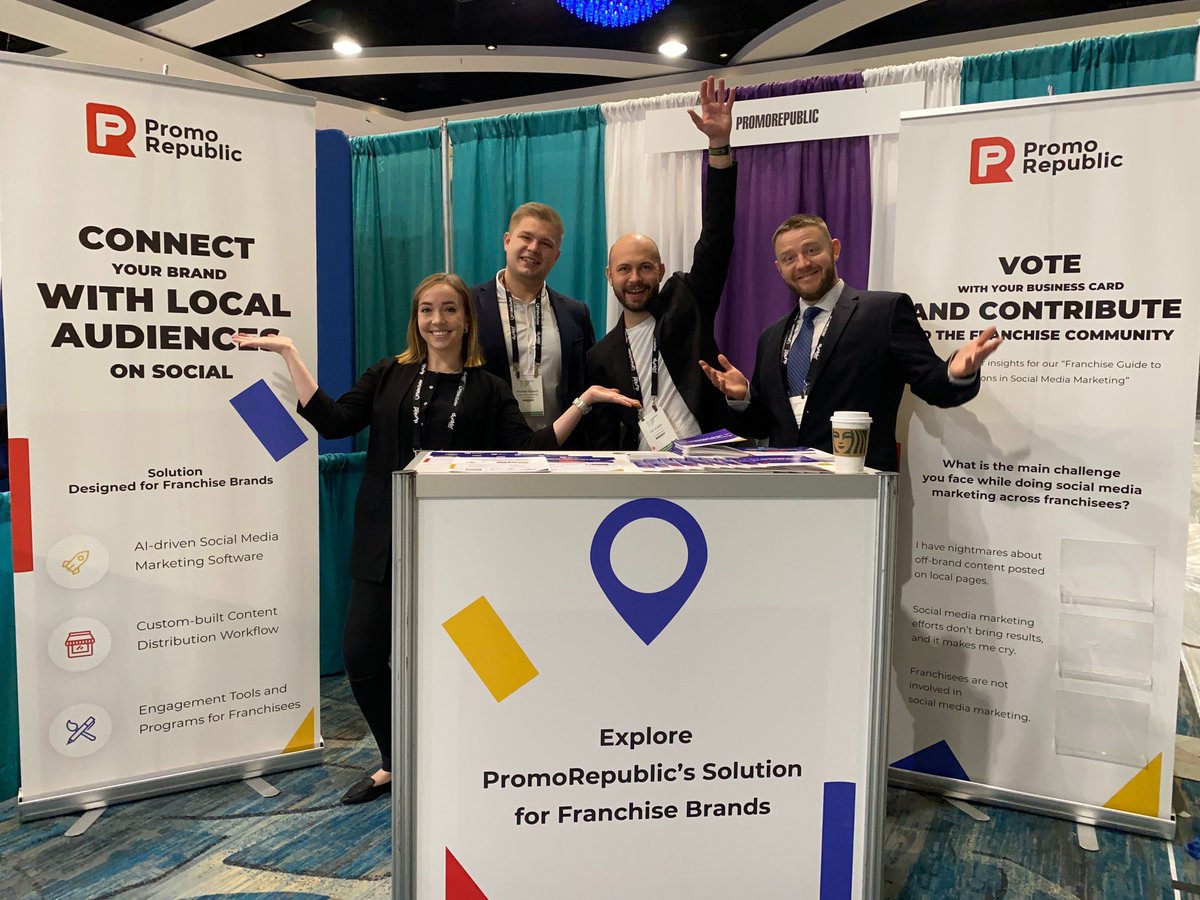 Agorapulse supports Facebook, Twitter, Instagram, LinkedIn, Google + and YouTube.
Agorapulse bundles are slightly higher than the lowest prices of $ 79 for 10 social accounts, $ 159 for 25 accounts. Agorapulse gives you basic reports to help you keep track of your posts. For more detailed reports and more information you have to pay an additional fee of 19 – 39 USD
The interface of Agorapulse when using
ContentCal is a tool that helps you to schedule posts and manage your content very well. With an intuitive post display interface, the version can track and approve each content quickly. ContentCal also helps analyze, track content and provide the best content improvements.
ContentCal is great for teams or organizations that manage and browse content in groups. From drafting to content browsing, all work with precision and logic.
For anyone who needs a tool to manage multiple accounts and build quality content, ContentCal is the right choice.
You can refer to ContentCal's packages with specific prices from 17USD
13. Loomly – Social media management tools 2020
Loomly is a powerful platform that helps you manage the widest range of social networks. With basic packages from 25 USD / Month with 2 Users and 10 under 10 social accounts.
Loomly has built you in a step-by-step content creation process:
Draft
Waiting for approval
Editing required
Approved
Plan
Published
Loomly also offers you features to manage comments, messages and track social media interactions.
For those who need to advertise on Facebook, Loomly always provides you with the feature to set up your own ads for each specific content with suitable budget audiences.
Sendible is a very powerful tool as it helps you manage a lot of social media accounts. With only 29USD / Month, you can manage up to 12 accounts. A reasonable price for individuals to use. For higher costs you can manage hundreds of accounts in one place.
The highlight of Sendible is the management of multiple accounts and lots of useful reports
Sendible helps you manage on 6 most popular social media types and post directly to WordPress, Medium. Tumblr and Blogger
Sendible also helps you repost the best content to keep your accounts active and without having to create too much content.
In addition Sendible also helps you create content in an intuitive and fastest way.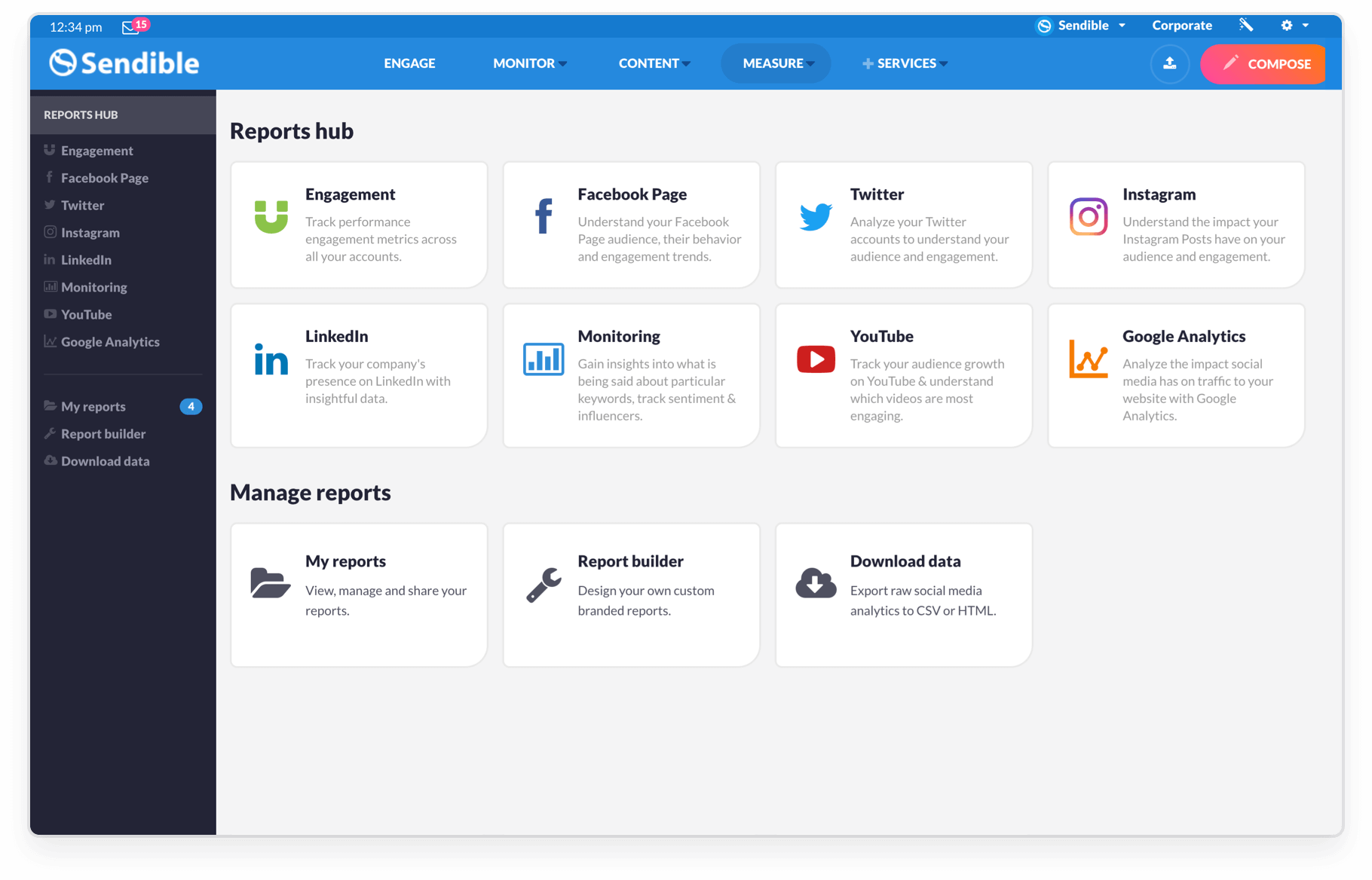 Sendible provides you with powerful and accurate reporting tools to help you make quick insights on your content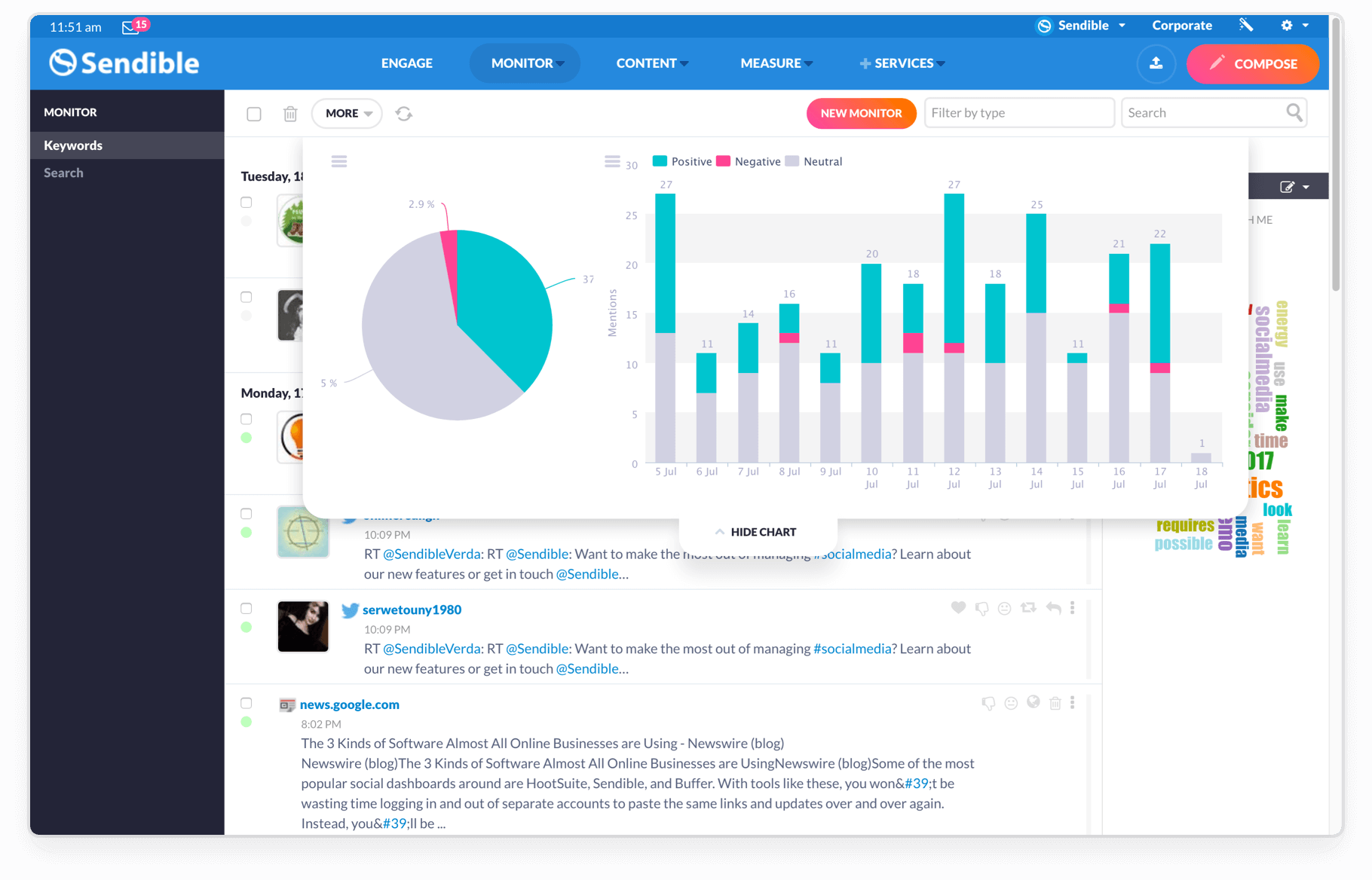 You can track interactions in one place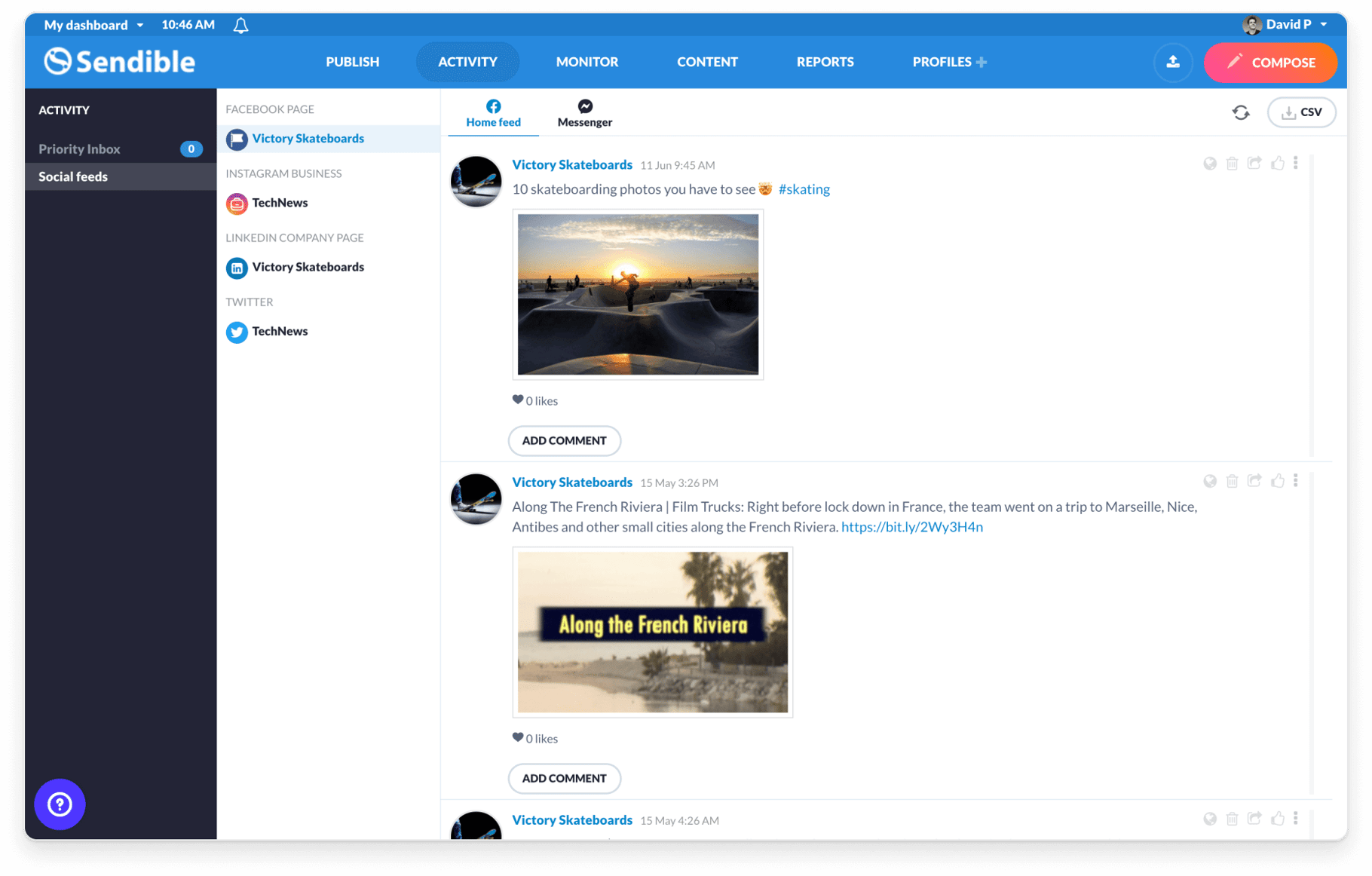 The prices you can choose from
Just by looking, Sprout Social is a very powerful analytics tool. It mainly focuses on data reporting and analysis. Therefore, this tool is very suitable for organizations with well-functioning social media accounts and need a detailed and accurate analysis tool. Thereby helping you to have useful information to create content that conveys better information.
The basic features of Sprout Social also include scheduling and posting, you can quickly keep track of posts scheduled for the week or even the whole month.
Plans range from $ 99 to $ 249 per month, and you get a 30-day free product trial with minimal account count.
Weekly post schedule management interface
Follow messages and reply directly on Sprout Social
Some of the reports are very intuitive and easy to follow
16. Buffer – social media management plan
Buffer offers you a 14-day free trial package to help you experience the tool's features well. With an easy-to-use interface, Buffer helps you to schedule posts with the number of posts depending on the subscription plan.
You will not miss a single message with the system of receiving and replying messages quickly and centrally in one place.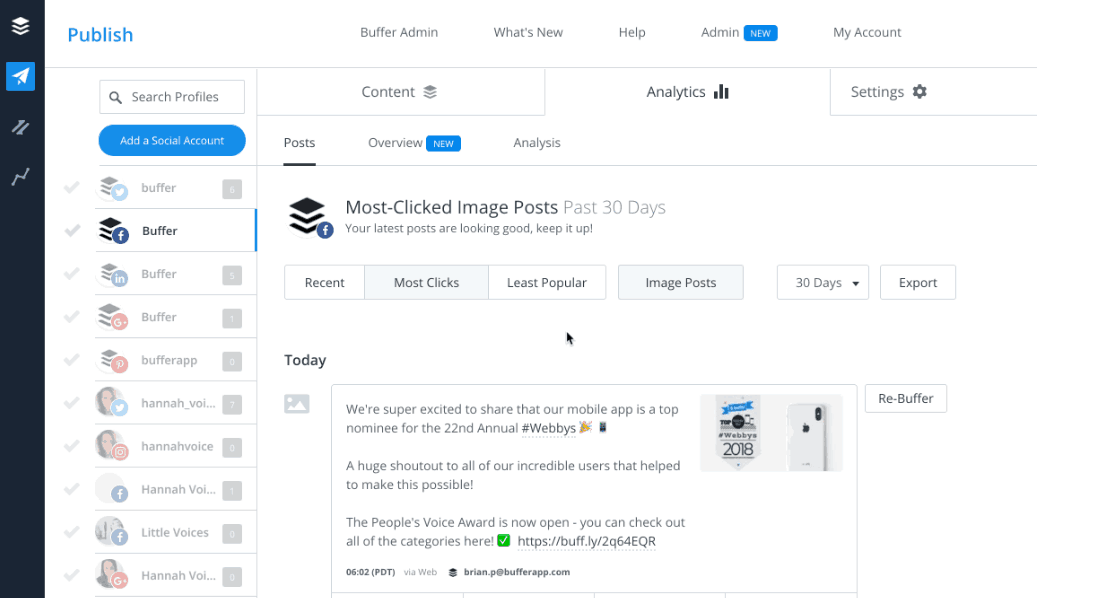 Price list uses Buffer currently, completely free for 3 accounts and scheduled for 10 posts
Buffer operates with the 5 most popular social networks
SocialOomph is a dedicated Twitter tool to help you manage all your Tweets to all of your accounts.
You can also follow keywords that fetch tweets to create post drafts for you, or automatically republish those tweets with changed content using a tool that replaces the text of each dissimilar post to do not create duplication.
SocialOomph has also developed similar features for Facebook, Pinterest, LinkedIn and Plurk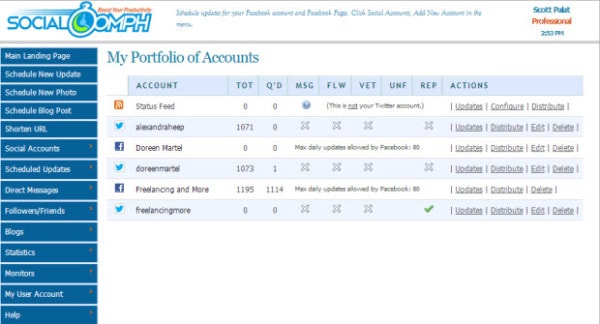 You can experience immediately with a free trial of 1 account or start a more professional package with 55USD / month
A bad part is that the user interface of SocialOomph is not very friendly, making it difficult to follow and interact when using too many accounts.
Đúng như tên gọi, CoSchedule là công cụ giúp bạn quản lý tốt các dự án hoạt động tiếp thị cho nhiều đối tượng và khách hàng một cách hiệu quả.
CoSchedule helps you post to Facebook, Twitter, LinkedIn, Instagram and Pinterest.
See CoSchedule creation and posting instructions
CoSchedule is priced at $ 29 with a single package. Other needs you can contact for support
Everypost is the perfect tool for you to use for Facebook and Twitter. You can schedule to post your content for each account at a given time.
Everypost supports operating on both iOS, Android and web platforms
You can create multiple content or grab content from # tags and cross-post them to your social media accounts to create the richest content for your customers.
Packages from $ 9.99 to $ 99.99 to manage 10 to 120 accounts
Later supports you manage on 4 main social networks: Instagram, Facebook, Twitter and Pinterest, but the main support is still Instagram. Therefore post on Later will start by uploading images first, then create captions for posts.
Scheduling posts is easy and fast with drag and drop posts on each date you want to post, then edit the time accordingly.
With premium packages you have the ability to manage comments directly on instagram
Later gives you an archive of your images so you can easily reuse them later to create content for you.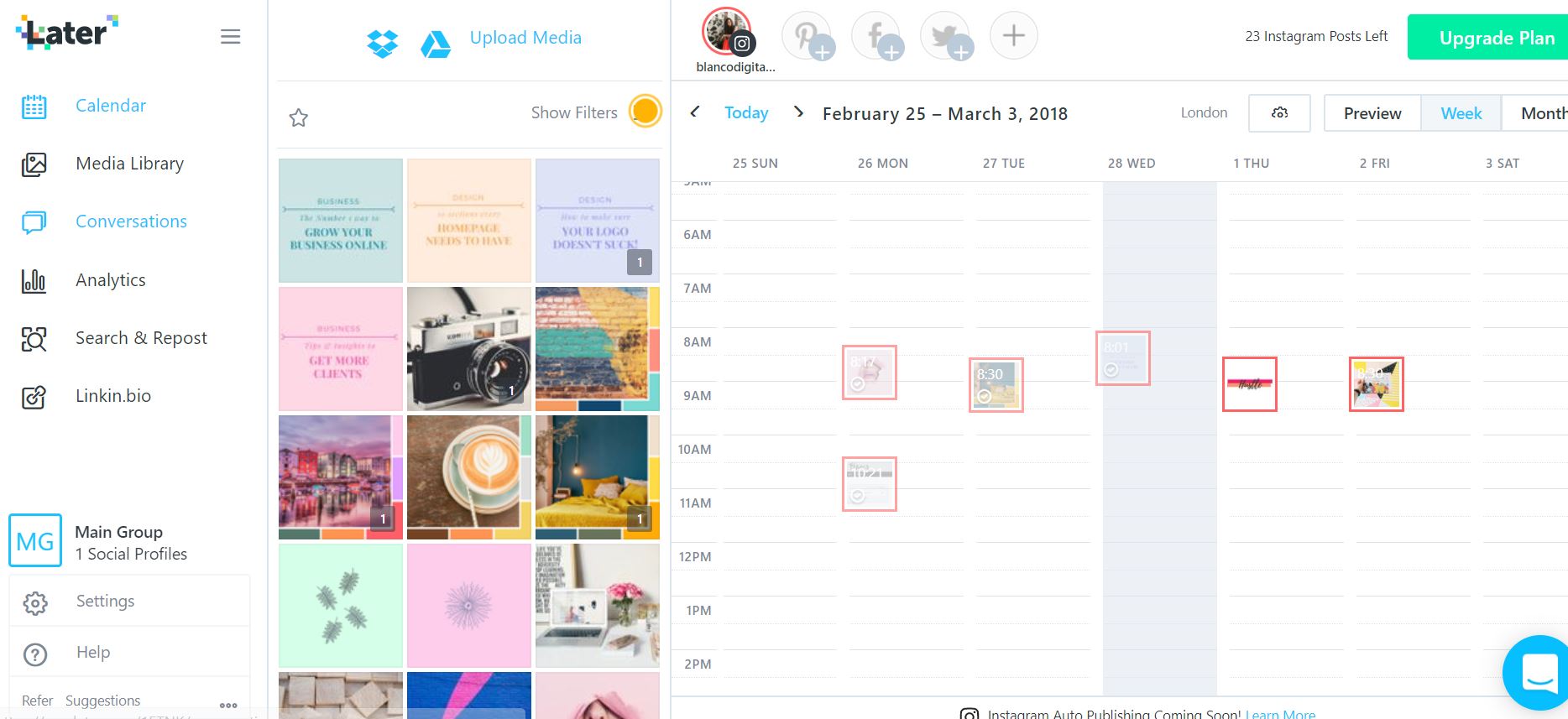 Later price is calculated according to a package of 4 Instagram, Facebook, Twitter and Pinterest accounts with the lowest price from 12.5 USD / month. This is a high price because if you need to manage 5 instagram accounts, the lowest girl will be 75 USD / month
21. Feedly – Media manager pro
Feedly is a great tool in helping you find the best content to share on your social media account. Feedly was voted by many as best social media management tools 2021. Feedly is simply a powerful data reader that helps you filter content from a variety of sources, from topics, hottest news, social media posts, and from various RSS feeds.
You won't have to worry too much about finding and choosing content to match your desired topics, but also what content will I share. Feedly will provide you with suggestions.
Feedly also helps you to share such content on your social network quickly and automatically. What do you think when a very attractive topic appears, you already have the post on your account.
Feedly offers very popular rates, for as little as $ 6 / month, you can gather information from 1000 feeds.
Zoho Social is a social media management tool that helps you manage your activities on Facebook Pages, Facebook Groups, Twitter Profiles, Instagram Business Profiles, LinkedIn Profiles, LinkedIn Company Pages, YouTube Channels, & Google My Business listings. The tool is primarily focused on businesses and brand managers. Each business social network has 1 account to access its customers.
Zoho Social's price lists also focus on providing you with the number of social networks you can manage, and each social network has only 1 account. The price to use all the accounts is 37.5 USD.
If you are managing over 50 brands, please contact us for the best support.
Zoho Social also adds CRM connectivity feature to work well with your business's modular connection systems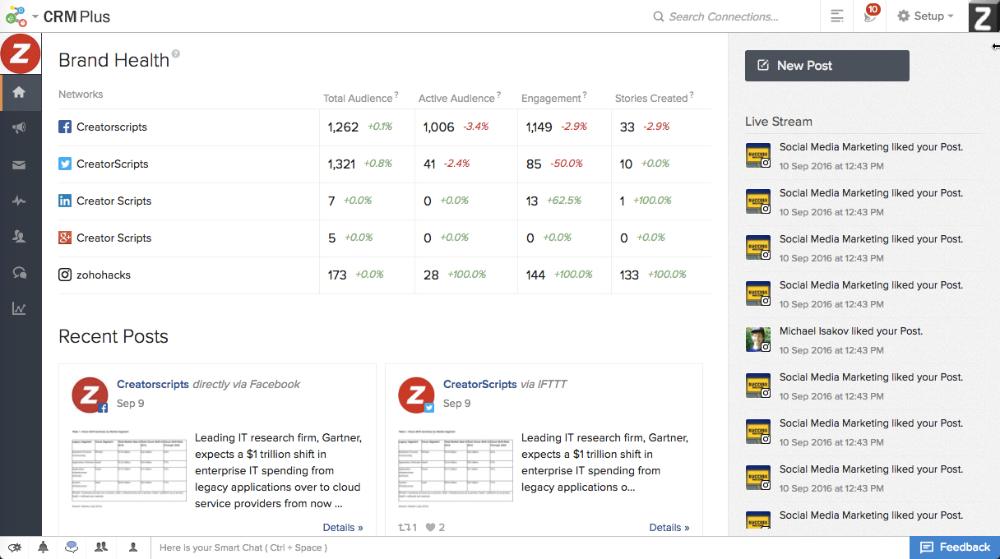 Trên đây là 22 Công cụ quản lý mạng xã hội tốt nhất 2021, bạn có thể tham khảo những đề xuất của chúng tôi để chọn cho mình những nền tảng phù hợp. Trong có 5 nền tảng chúng tôi bình chọn tốt nhất là: Hootsuite, Feedly, Social Post Center, Buffer, Planoly